31 Dec 2006 - New Years Eve
The bikes are coming along. Chris' bike is just about done. We're down to mounting the spare brake lever, the spare shifter, the spare brake lever, the spare clutch lever, a spare tube, Chris' Leatherman and routing the power and data wiring for the GPS James' bike is still a work in progress. David and James still have a lot of work to do. They're making great progress but the 660 Rally as delivered from the factory is race ready but it needs to be personalized for James and the nav and satellite equipment have to be added. James' has his own ideas of how the bike should be set up to survive and be usable and he has fabbed numerous pieces that have to be added to the bike.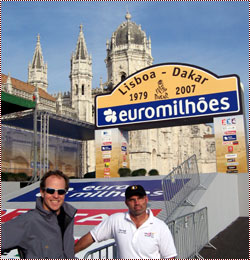 Later in the day, Chris, Spice and I join up with 3 guys from the Heartland-Dakar race team (Tim Hall, Jim Radcliff and a friend) and go down to the Belem Cultural center in the heart of Lisbon to do some sightseeing. The Dakar Rally really starts at the Belem on the 3rd with registration, scrutineering and assorted meetings and briefings.
The Saturday start takes place at the Belem and this is our first view of the event area. The start stands are there. Parc Ferme is barricaded off. The scrutineering tents are in place. We're all getting more excited as the time winds down to the start. Seeing the start gate makes the rally even more real.
That night we have reservations for dinner down at the marina. We join up with the PanAmerican Racing team and the Heartland-Dakar racing team for New Years Eve in a marina in Lisbon, Portugal. Very cool (literally). James offers a toast for a happy, safe and successful Dakar and we sit down for a pretty good dinner with a lot of beer and wine. At midnight, we have champagne and count down the clock with the Portuguese all around.
After midnight, some of us head back to the rooms and the rest stay and party. It's 2007 and we're on an adventure.
— Paul Dubinsky
Animated map
( shows route for each day)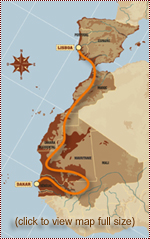 [ Next Report > ]

[ < back to main race reports page ]