Dakar Diary-3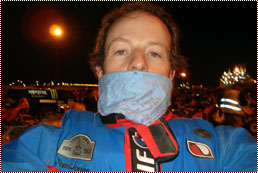 Around 2:30 in the morning on Day 3 the first breakfast bell rang on the boat. I swear you would have thought it was a fire alarm with the speed the Hungarians jumped up. I thought for sure the whole boat was waking up for breakfast but it turns out we still had two and half hours. I wish I would have known this but they don't tell you at the Intro To Dakar seminars. After they left I got my stuff together to greet the day and went up top for my requisite 6 cups of coffee daily. What a surprise when I entered the cafeteria and saw only me and the Hungarians. Oh well, I was up now.
The coffee was a nice welcome. If the rest of Morocco is like this I'll be fine. I think the boat pulled into Nador around 5am. Everyone was filing down into the belly to retrieve their bikes and make their way to land. I had never been to Africa before so the thought of exploring a little was very exciting. Even know I didn't sleep all night and it was 5 in the morning I was wide awake. Adrenaline would come to be one of my best friends from here on out. The weather was a little colder than I thought but thankfully I remembered my electric vest. We were looking at a 205km liaison so the vest would be a blessing in the chilly African air.
By the time we got off the boat and into formation I still had an hour to kill before my leave time. Some people tried to catch a few winks while others used the time for bike maintenance and socializing. I didn't see Elmer as he was staged up front with all the fast guys. Steve and I caught up a little and James told about his plan for catching the truck in Casablanca. I hated the way this was all going down but he had made up his mind.
The sun came up shortly after beginning the liaison and emerged our first day on African soil. I couldn't believe it. I was literally without words inside my little helmet for the first time. Africa, that huge continent where all kinds of crazy shit goes on. This was it. So many volumes of National Geographics dedicated to the very place where I'd be spending the next two weeks. I didn't know if I was prepared but I was still sticking to my "whatever will be will be" philosophy.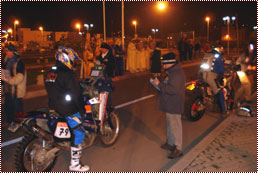 All of the motos needed gas before the start of the Special so we files into the gas station just like the roadbook indicated. The only problem was that the police forbid us from going to any other gas stations than the one they had chosen. There were three within spitting distance but they were off limits. One pump for all 2-hundred-something competitors. I couldn't believe how ridiculous this whole setup was. Everyone was jumping in line trying to get to the pump, quads were pushing their way up and squeezing out the bikes. It was total and complete chaos. I think I was there for an hour and a half and of course I was late for my start time. What is ten minutes to me, I thought, over 15 days? I was so pissed off but I couldn't help but think this was how it was supposed to be, always has been and always will be.
I think I started the Special around 10:15. I was a little late but what could I do. The only real problem was the later I was the closer it put me to the cars. Throughout the race my goal each and every day was to try to avoid the cars for as long as possible and make it to the end of the Special before dark. I managed to stay out of the dark for the most part but the cars were only a matter of time.
The course that day was very Moroccan. The villages and stony tracks were exactly what I had imagined More-Rocko to be like. At some point in history someone fittingly named the land after the rocks that cover the entire country and line the course for the rally. How appropriate I thought.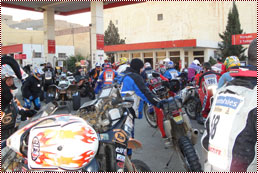 My first efforts with navigation in Africa turned out to be not as tough as I thought. By the time I got on the trail there had already been at least 100 bikes through so this section was fairly well-trodden. I would find this to be the case with a lot of the rally. For probably 50% of the Specials I was following the tracks of those ahead of me but you still had to be careful. Many times there were four or five tracks splitting the roads so you constantly had to confirm the track. Right away I could tell the dust was going to be a problem. In the really bad spots it was virtually impossible to pass someone when they left a wake of dirt a mile long. Once inside the wake watching for hazards was a real challenge. Sometimes they would sneak up on me when I was concentrating on the roadbook or another bike and in an instant I would slam into a ditch or a big rock. I never got used to that. Around every single bend was a potential race-ending rock. Early on I decided to err on the cautious side regardless of my speed. "Just get it to the finish every day" I insisted.
The riding for me was one of the most stressful things in my life to date. The actual riding wasn't the worst of it but everything else that is racing through your mind just compounds the stress. There is so much going on in your head that sometimes you don't know if you are coming or going. "What was that noise in the engine? What do I have to do tonight? Is the truck going to be there when I get there? Get some food first. Where is the catering tent? What is my start time tomorrow? Blah, blah, blah." The list is endless.
Well, I made it to the end of the Special without too much trouble. I had a few moments in there, especially when that first VW Toureg came screaming by an some obscene speed but I got used to it pretty quickly. I made the Special in the daylight but the Liaison had me riding in the darkness for a couple hours. The dust, dirt and traffic all made for yet another exciting ride.
I found Charlie and the Rally Panam guys right away but our truck was nowhere to be found. They had set up a neat bivouac of their own for the supported riders complete with tents, airplane boxes and work areas. At some point during that morning they saw our truck and relayed the message to me and Elmer and Steve that we would be without support for the rally. I didn't have much time to screw around there were still things to be done, truck or no truck. My options were severely limited so I opted to camp with all the unassisted riders on the tarmac, literally. I was now an unassisted rider. Believe it or not there was a strange sense of calm in my usually disturbed head. From here on out I had no one else to rely on but myself. For whatever reason I didn't freakout about the loss of the truck. I had what I had and that was it.
I did manage to run into Elmer and Philip wandering around the bivouac. Philip hitched a ride with the Husky guys down to Er Rachidia in order to see his brother to the finish no matter what it took. He came with nothing. When the decision was made that the truck wasn't going on Philip got out and started to carve out his own plan. With everything they had on the line there was no way a broken down truck was going to throw a monkey wrench into Elmer's plans. I have so much admiration for the drive and determination the Symons brothers brought with them to Dakar. Philip expressed some anger with how everything went down but was determined to pick up where he left off and get Elmer to the finish. They were clearly on a mission. He didn't know where he was going to sleep or what he'd wear but none of that seemed to matter.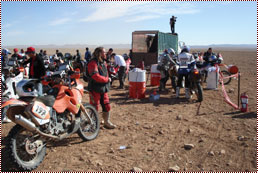 Philip also told me that a box of my spares and some wheels and tires had been stashed on one of Robby Gordon's support trucks. I couldn't believe my good fortune. Paul, my mechanic, sought the help of the big boys when he knew everything was going to hell in a handbasket. He asked if they had room for some stuff and without so much as a hesitation they obliged and offered to carry anything we needed. I had a footlocker-sized box of spares and various parts that I had put together and Paul saw to it that it made it to Er Rachidia. He also threw on an extra set of wheels and the rest of my tires. With all that I knew I could make it. There was a reason that stuff made it on and it gave me new encouragement and confidence in my effort.
I still had to make a few trips back and forth from the tarmac and the Monster Energy camp to get my bike in order for the following days. Tuesday was going to be a marathon day without any access to airplane boxes and no ability to carry parts. I really needed to make sure the 640 was up for it so I mounted two fresh wheels and checked all the essentials. Remarkably things weren't so bad. I had a few little nuts and bolts that were loosening up but nothing major. The whole scene at the airplane was actually really cool. At the beginning there was probably 100 riders there camped at the plane living out of their boxes. Also at the airplane they have a variety of services available like tools, oil and some minor mechanical assistance. This was the heart and soul of the Dakar right there and I was smack in the middle of it living the dream. I was living the dream so much that Chris Evans from the ASO came over to interview me for the website. He said they were highlighting a new privateer every day and he loved my story of losing the support truck and persevering through it all. Personally I think he just wanted a down-on-his-luck American to rub it in and make fun of but I figured any press is good press. I told him I didn't mind if he hung around if he didn't mind that I was working on the bike. I'll be damned if he didn't publish it the following day on the Dakar.com site. How cool was that I thought? I have been following the race for years and feverishly reading every bit of info on the racers and I was one of them. I was on the site for millions to read. He took some liberties with the interview but I didn't care really. I would come to learn that he does that with everyone. He interviewed Steve later in the race and published that he was trying to raise money for next year's Dakar. Apparently Steve's wife Debbie read it before talking with him and I think she was caught a little off guard. Supposedly there were no plans to race it next year but things must have changed. Oh well, such is the Internet.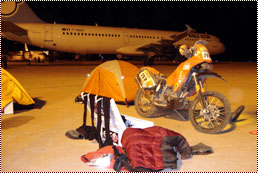 Time seemed to have sped up from when I arrived at the bivouac to when I needed to get some rest. So much to do and so little time to do it. I finally got the bike as good as it could be and turned in. The airport runway wasn't the best place to try to rest but it was the only place I could camp. It was every bit as loud and crazy as you would think a runway would be. I had my earplugs in and everything but nothing seemed to help. Once again, morning came quickly but so did that weird sense of cal.
I walked over to the caterer for breakfast and ate the same thing I would eat every day for the next two weeks. I would get a baguette, two jellies, butter, two yogurts, two croissants with ham and cheese and a big plate of pasta with plain red sauce every day. Since there isn't really a lunch stop during the race that pretty much had to do until dinner. The area is laid out in a big U-shaped bedouin tent with the head of it a buffet style line. The two outer parts are lined with beautiful Moroccan rugs covering the ground for everyone to eat on. There wasn't a table in sight for the entire race, strictly sitting on the ground for everyone. I really grew to love my morning breakfast ritual. I was up every day 2 hours before my leave time. That would allow me time for a bunch of coffee at the tent and was actually the calmest part of my entire day. I never got over how cool it was to be a part of this massive event and it would hit me every morning at the tent as I watched the bivouac come alive with racers from all over the world and then there was me.
I couldn't believe how damn cold it was. At the last minute my Mountain Hardware buddy Jon got me a 12-oz down jacket and I swear I lived in it every day. This day was no exception. I could barely fit it in my backpack with 100oz of fluid but it packed down so small I couldn't not bring it. Later that night when everyone was freezing his ass off I would pat myself on the back for packing my jacket. I tried to dry out all my gear the night before by laying it all over my bike but I was forced to put back on dirty wet socks and pants. This was only the beginning. Over the course of the race I was only able to do laundry once on the rest day and that was in the shower with me. I thought Spice and I did pretty good with our dirty gear on our big trip but that paled in comparison to what I was about to put my clothes through.
As I packed up my little camp, airplane box and camping gear Elmer and Philip dropped by to pay a visit. Philip was on the back of the 660 and they rode over to check on me and make sure I didn't oversleep. Even in the midst of his own crazy race Elmer still had time to check on a buddy. They only stayed for a minute but in that he told me it was a long stage and I really needed to be careful. Don't do anything stupid and just get it to the finish each and every day. He said he really wanted to see me at Dakar. Just finish it. I told him like I had told him a dozen times before that if he got me to the start I'd get it to the finish. I thanked him and told him I'd see him that night in Ouarzazate. That was the last time I ever saw Elmer. He died that day 140km into the Special stage. I'll miss you buddy.
— Chris
[next >]
[< back to main race reports page]