Dakar Diary-5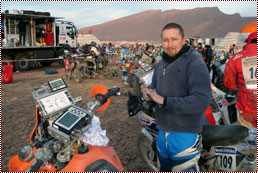 My start time wasn't until around 7 that morning so I actually had a little time to enjoy my coffee. Again, I really enjoyed the morning ritual of coffee and watching the bivouac come alive but today it was different. The sleeping pill did wonders for my night. Once I slipped into my blankets I don't think I so much as rolled over until the troops were rousting about. I needed that. The sun had barely come up when I poked my head out. It was way too cold to actually get out of the blankets and walk to the coffee so I stayed wrapped up like it was Sunday morning at the house and shuffled over like Mr. Snuffaluffagus.
My next order of business after coffee was to check out my drying gear hanging off the tent. It dried almost too much. The sweat from the previous four days riding started to create a nice crusty feeling every time I would put my socks on. It was going to be another 3 days of riding before I could get to laundry but I got used to it. Pretty soon I just quit thinking about the dirt so if no one around me minded I didn't mind either.
Steve and I got to the bikes to witness an amazing sunrise over the Moroccan hillsides. I couldn't believe how blue the sky was and how orange the mountains were. No wonder they shoot so many movies here. We still had a little time but there were things to take care of. I stashed a fresh air filter in my back pack and one in the toolbox. I could have used three every day considering how quickly they packed up with sand but there simply wasn't enough time in the day.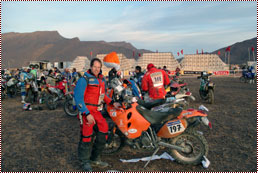 The bikes didn't have the same liaison as the cars and trucks since we spent the night unassisted but there was still a fairly long Special. The course started out really dusty with the sun backlighting the clouds of dirt just perfectly. It all made for a terrible start. Steve and I waited for each other and tried to stick together all day. This turned out to be more of a challenge than we thought. You either had to ride right off someone's tail to stay out of the dust or stay way back and wait for it to settle. Once I would fall out of Steve's pace I had no other option but to drop back and ride my own race. The course turned really rocky while we rode up and over the Atlas Mountains. In any other circumstances this would have been a wonderful place for some adventure dual-sport riding but the combination of everything going on suddenly made for a not-so-fun race.
Some of the villages we rode through were amazing to see, often set hundreds of feet over the floor of a valley. The rocky terrain made it nearly impossible to get any sort of rhythm going. There wasn't any quick way through, only over them. I have always had issues with my hands on long gnarly rides and this seemed to be the beginning of what would plague me for the rest of the race. I didn't have any blisters yet but the constant pounding and vibration of the motor combined to make my long days in the saddle a bit of a pain. Everything else physically was going great but my hands were achy and cramping bad.
I couldn't believe how relentless the rocks were. There was no end in sight. Just when you would think a break was coming you would come up on another crappy hundred km of rocks. Occasionally the course would turn to sandy two-track with only moderately shitty rocks buried in there but the real rocks weren't far behind.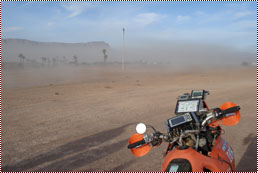 Thoughts of Elmer filled my head all day long. His last words rang in my helmet like an iPod stuck on repeat. I also had a few conversations with him throughout the day that kept me moving forward when I really didn't feel like it. I wondered if he would mind if I bailed out and went home. For me the whole motivation to get to the finish had left. I really didn't care much if I reached Dakar or not. I figured, I had gotten to the start, I had experienced the Dakar, whatever happens from here on out I really couldn't care less. The riding wasn't fun at all, the dust was killing me and every rock on the course felt like a sledgehammer on my knuckles. I don't recall ever riding as slow as I did for the next few days. After Elmer I rode with so much caution and fear for me and the bike that it felt like I was just going through the motions. It wasn't riding at all.
This went on for the rest of the day trading off between moments of intense dislike for the race, gratitude for teaming up with someone like Steve and really missing a buddy I had grown to admire and cherish.
We eventually made it to the gas stop and the end of the Special. At times we would see Tim Hall and Paul Broom at the gas stops or along the course. Paul was having some issues with his bike, especially his roadbook. Once it quits working the only option is to advance it manually and that takes away a good hand and much needed concentration. Paul asked me if I minded if he followed close for the rest of the day while he tried to work out his technical problems. Of course I didn't mind as long as he didn't mind riding at my pace. He opted for the "follow close" approach to dust racing but occasionally it would come to bite him in the ass. A few times riding along I would forget to look for hazards in the roadbook and they would sneak up on me. One time in particular I recall riding along at a pretty good clip when suddenly I saw a pink hazard in my roadbook prep pop up. I grabbed a handful of both brakes but saw Paul continue on past at race pace. I knew this was going to be bad as I slammed into the ditch having just scrubbed enough speed to survive. Paul on the other hand wasn't quite able to get it down to a safe pace when he and the XR augered into the other side of the wash. I thought for sure he was hurt and I knew the bike was damaged from the sounds of all sorts of metal crunching and plastic breaking. Thankfully I was wrong on both accounts. It rang his bell a little and the bike suffered some minor damage but mostly he got tired from kicking the damn thing over. I loved my electric start. You couldn't pay me enough to ride an XR if for no other reason than the kickstart. I felt for him. I was really sorry for his crash and felt a little responsible since I only realized it was a hazard at the last second. I told myself to pay more attention and if possible give him some advance warning of the hazards.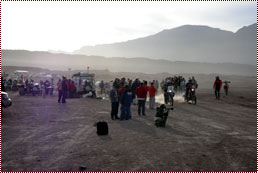 That wasn't the end of Paul's adventures. Apparently no one told Paul that they didn't have a Powerbar store in the bivouac. He showed up to Dakar without any plan for nutrition and meal supplements or energy bars. He asked me and Steve one day at a gas stop where everyone kept getting this seemingly endless supply of energy bars and we just both looked at him a little weird. "Huh? You didn't bring any bars?" Paul said he didn't have any room in his kit and, not being a fan of powerdrinks, he was left to snack on the Dakar-issued lunch of pate, pudding and chips. I hated that for him and gave him a bar every chance I could. That seemed to help but it would get worse before it got better. I think his lack of nutrition and fluids was starting to wear on Paul. The bike suffered more each day but it seemed to reflect directly on his state as well. More on Duct Tape Paul later.
We all made it in that day. By the end of the Special we barely saw the sun but that was all we needed. The 280km liaison to the bivouac was long and dark and a little crazy at times but day 5 was one more day closer to Dakar, that's how I saw it. At some point during the day we lost touch with Tim Hall. He was still MIA by the time I got to bed. We all started to get a little nervous as the night grew darker, especially his mechanic Jim Radcliffe. He quietly paced around like a nervous mother but his attitude never wavered. Tim made it in late that night after some hairball field repairs that involved a wine bottle cork and some homemade radiator hose. His bike was showing signs of wear but Jim worked through the night to get it back in top shape, no small feat in a sandstorm.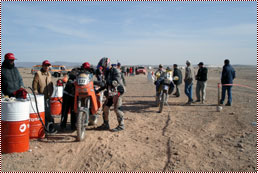 Once we got to the bivouac in Tan Tan my race was again about to be turned upside down. The reality of getting through a Dakar without any assistance and no spares to speak of was really starting to hit home and the longer I went on the tougher it was going to be without any help. There are a number of people that do it without assistance, and do it very successfully, but that just wasn't my plan. I got to the bivouac and searched for the Rally Panam guys. Steve was already in with them since Jonah dropped out with an engine failure and made a deal for service for the remainder of the race. I asked Charlie if I could be a part of their camp for the next 10 days and without hesitation he obliged. That didn't buy me any assistance but being a part of a team and having a place to set up every night was a huge feather in my cap. When I got to camp after the unassisted days I had loads of work to do. I needed new front and rear tires which were over on the airplane half a mile away. I needed to change my oil for the first time since Atlanta but I didn't have time for filters. I also needed to check the water, check the chain and sprockets, change the air filter and check all the various nuts and bolts that were starting to come loose, etc. Basically I had about 6 hours of work to do and 3 hours to do it.
Patsy Quick and her husband Clive were also a part of the Rally Panam camp. I had met them earlier in Lisbon and immediately recognized them from the Charlie Boorman Race to Dakar videos. They were real Dakar privateer celebrities. Patsy had competed in the Dakar for 4 straight years leading up to 2006 and finally made it to the finish last year. Rubbing shoulders with these two first-class Brits was nothing short of wonderful. Patsy wasn't entered this year but instead they opted to enter a support vehicle and rent three rally-prepped 525EXCs as customer bikes. Clive and Patsy jumped in without skipping a beat to help out in any way they could. Clive gave me a mat to work on and the full run of his tools, whatever I needed. That transition into the unassisted world could not have gone smoother. I was surrounded by an amazing group of Dakar nuts that only wanted to see everyone get to the finish and were willing to help out in any way they could.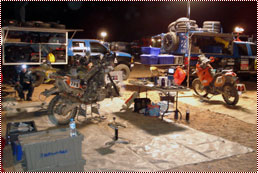 That was about the time Gary Sparks and Jim Radcliffe chimed in. Gary was there on his own to be a part of the Dakar. He bought a seat in one of Charlie's trucks to help out and check out the Dakar. Gary has aspirations of competing in the Dakar next year so before he goes he wanted to see what it was all about. Jim was wrenching for Tim Hall but since he hadn't come in yet they both jumped in to help. Gary retrieved my airplane box, also a half mile away. Before I knew it he had my tent out and built and all my gear ready for the night. Jim and Gary both got me set up with fresh wheels and off to the Euromaster truck for changing. Euromaster is one of the sponsors of Dakar and offers a tirechanging service for all the competitors, bikes, cars and trucks. In no time at all Jim and Gary had me dialed in with new rubber and mousses front and rear. That saved me valuable time I would love to have for sleeping.
My spares box also was a half a mile away in the other direction on the Monster Energy truck. I don't remember what I needed out of it but inside I had a collection of all sorts of little nuts and bolts, brackets, fluids and other assorted items I deemed necessary for a trip to Dakar. It weighed in at least 100 lbs so dropping it off the 16foot high truck and dragging it back and forth wasn't very practical. Instead I opted to grab a few key pieces I would need for a night of maintenance.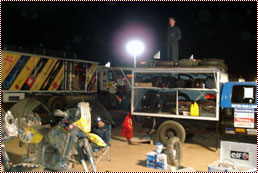 Even with the sudden change in plans I felt amazingly calm about what lay ahead. For whatever reason I had the sense that everything I had done in the past had prepared me for this very crisis. At least I knew exactly what I had and what needed to be done. At that point I had no one to rely on or to blame other myself. I knew it would be tough but my confidence was high.
With the help of all the guys and Team Desert Rose's Patsy and Clive I finally had the bike where I needed it and hit the sack after my roadbook prep. The fast approaching windstorm made for a crummy night of sleeping but that would pale in comparison to the day we had ahead. It was one of the longest of the rally with a total of 817km or 506miles. 600 km of that day were going to be offroad though only 400 of it part of the Special. We would also be going through a couple border crossings in and out of Western Sahara and we would end the day in Mauritania. The border is only open one day a year for this event as the two countries don't really got along these days.

— Chris
[next >]
[< back to main race reports page]