Dakar Diary-9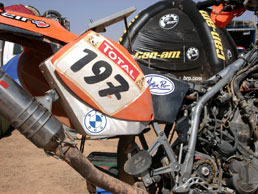 Race Day-9 started a little rough. Getting to bed so late the previous day meant a short nights sleep at the beginning of a long week. One good thing that came out of sleeping in my gear was it shortened my time to get dressed in the morning. As usual I was up two hours early for breakfast but had some business to take care of first. The only other person up around me was Casey and he had the same thing on his mind. The bivouac was literally in the middle of a humongous dirt field that doubled as an airstrip the rest of the year. When I inquired about where the "Toilettes" were I was told they are 1km away and cost 5Euro. Casey and I both decided to take matters into our own hands, so to speak. He walked off in one direction with a pack of handy wipes and me the other with a similar pack. That was a strange sensation using the bathroom in the middle of an airstrip in the pre-dawn hours. You do what you have to do I guess. While still in Lisbon Spice sent me off with two rather large packs of baby wipes for this and that. I used every one of them, the last one being the last day in Dakar. Toward the 3/4 race mark I started to ration my wipes so they would last but I used them for everything. That may have been the single greatest accessory I had with me. In the absence of any real shower or means of cleaning the handy wipes were a saving grace.
Breakfast was awesome today despite the 9th in a row of the exact same thing. I enjoyed it a little but the pasta was getting old. I had a little extra time for coffee and drank every minute of it. The bike was as ready as it was ever going to be but still needed to get gas at the bivouac Total station. We weren't running late but by the time we got to the gas we knew we weren't going to make it. We must have sat there for more than 30 minutes trying to get gas. Every single competitor that came in late the night before, and there were a bunch, waited until the last minute to fill up. Most every vehicle has four different tanks so sometimes it would take forever just to fill up one machine and with only one pump the wait was painful.
Duct Tape Paul came in late last night also having suffered through some mechanical difficulties. We saw him at the gas station looking a little worn out but enthusiastic. During the rest day Paul's girlfriend Susan had met us in Atar to liven up the spirits a little. I think it was exactly what he needed. Before that I would have sworn Paul was on his last leg and ready to throw in the towel. He was dehydrated, under nourished and his bike needed a lot of love. Gary Williams from Australia, Paul's mechanic, took care of the bike love but Paul needed more. Jonathan Edwards the KTM doc saw that Paul was in need and at 11:30 that night woke him up for a much-needed IV drip to get some fluids back in his body. The days that followed would see a new man in Duct Tape Paul. The IV seemed to really inject some life back in and he was ready for the second half of the race. So much so that he mustered up the energy to propose to Susan. She was a real saint, Susan.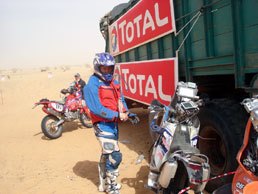 So we missed our start time because of the gas situation but without it we wouldn't have gotten out of the bivouac. Already we were behind the 8-Ball with a long 494km Special between Tichit and Nema. No one seemed to mind about the start time. I had heard that if you were more than 5 minutes late to a Special you would get DQ'd but maybe that day they showed some compassion. Not likely but for whatever reason they let us go. The other bad thing about starting late is it puts you closer to the cars and trucks, which is always a drag.
The day was a real mix of landscapes. We started off with fast tracks and then 100km of rolling sand and camel grass. From there to the first gas stop we had 115km of nasty, rocky trail that was absolutely killing my hands. The navigation was a challenge through some of the rocky sections because there wasn't any kind of trail to follow at all. Sometimes it was just huge fields of rocks with pockets of sand but otherwise no references in sight. The compass was key that day and Magellan really used it to its fullest. His navigation skills were turning out to be one of his greatest assets.
When we got to the first CP we realized Paul was right with us the whole time. His bike was hurting but still running strong. The entire rear subframe of his XR was being held together by duct tape, hence the name. It didn't seem to phase him much or slow him down in the least bit.
Between CP1 and CP2 we had probably 150km of just crappy, crappy rocky pistes and about 20km of dunes. The rocks once again could not have been more painful. I fell off the pace early on just because I couldn't hang. Steve rode ahead at his own pace and made some good time along the way. There was no way I could keep up. There were a few times on day 9 that I almost could not go on. I could barely hold on to the grips and turn the throttle. Once I would see far enough to get a sense of the distance ahead I would spread out the blisters and extra skin on my hand and place it on the grip. If I could keep it on the grip without the skin moving at all I was okay but as soon as it would move I was done, I had to pull over again and unlock the fingers. The dunes didn't help. They weren't long ones but I couldn't get any rhythm going at all. A couple times I was hoping for the bike to break or the motor to go but it just wouldn't give up.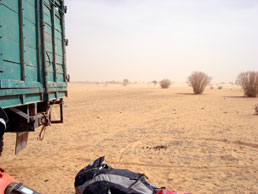 I thought about a lot that day. That was the second time I contemplated leaving the race. Speeding along on the fast rocky sections was taking its toll on me and my head. I thought about Elmer speeding along and how fast he would be going through the same sections I was struggling in. He always entered my head when I thought about going home. I kept hearing in my head him telling me to take it easy but I bet he didn't mean take it this easy. I really didn't care if I didn't make it to the finish. I hated the riding. I had accomplished what I set out to do and the fact that I even made it past the halfway point was probably more than most expected me to do. I bet I thought about riding with my buddies back home a thousand times. I absolutely could not wait until the next time I was able to go out and ride at my own pace with my old riding buddies back home, Cactus Dave, Jason Sandsux, Svenoman and Papa Dulce. When I get home I swear I am going to ride whatever I want, whenever I want at whatever speed I want. I am going to pull over and take a picture when I want and stop for food whenever I even sense my stomach grumbling. I couldn't wait to be done. It was no longer fun for me and the only reason I was going on was because I was closer to the end than the beginning. My brother wouldn't quit though and neither could I.
Finally CP2 and time for a little gas. Steve and Paul and I were all there together. We had 107km left to get to Nema and I wanted to get there quick. I told Steve I didn't think I could do 4 more days of this. I knew the days were supposedly about to start getting shorter but my hands simply would not take it. I can't remember exactly what he said but he threw some positive words my way and got me back in the right direction. I also scarfed down a Clif bar and three Emergen-C packets and then chased it with a triple- espresso-shooter energy gel and three Advil. Man, what a rush! The Advil offered a temporary relief from some of the pain and the other chemicals gave me enough of a charge to where I ripped about as hard as I had the entire race. I actually had fun for that last 107km. I passed Steve and Paul and didn't see them again until the end. It was fast, rutted out two track sand for the entire distance and I think we made it in almost an hour. What a rush that was. I don't know what got into me but I felt great.
I got into the bivouac, which happened to be at the end of the Special, smiling from ear to ear for a few reasons. Number one the customized front subframe mods(100 zip ties) that I had done night before was still sort of holding together, barely. The long, long Specials were done and we were coming up on an unplanned liaison-only day after tomorrow. We were down into the short rows and if I could just keep it together without flaking out I would see the Pink Lake. That last bit of riding was exactly what I needed to lift me up and get motivated toward the finish. I have done a fair bit of racing and some endurance events in the past and never quit before in my life, once even with a broken back last summer. I got to thinking about how bad I would feel if I did this time. Your mind is a crazy thing and plays games on you if you let them in. Mine certainly did on Day 9. I had reached my limit that day, mentally. I let the pain of my hands convince me that everything else around was failing. I worked hard the next few days to stave off those kinds of negative feelings. They will literally kill you.
In the bivouac we met up with all the guys and there was this huge sense of accomplishment around. Rob and Charlie from Rally Panam congratulated us for making it past the final marathon day, another mental and physical milestone in the race. I felt like a million bucks and for the first time could visualize the end.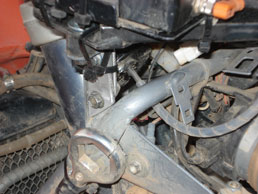 Jim and Gary and I talked for some time about the bike and I let them in on the whole subframe deal. Jim agreed that we had made it too stiff and as a result didn't allow enough wiggling room with all the different mounting points. I didn't know this but Gary is an ace welder. He took one look at it and shook his head, "don't worry about it. I'll take care of it." Between the two of them they completely took apart all the navigation gear with all the power cables, antennas, roadbook stuff and the damping bushings. This was no small feat considering they had never had any experience with my bikes wiring systems. Getting it right took me months of rewiring and rerouting and all of it was about to be undone. They jumped at the challenge after sitting in the truck for two days straight. Gary took the damaged bits over to the Monster Energy team and they let him loose on their welder. Within a matter of minutes Gary had the brackets welded up, ground down and holes drilled where they needed. I couldn't believe it. This was about as close to a factory-supported effort I would ever have in my life so, as you might guess, I was elated about the whole thing.
With some rare time on my hands I decided to do what I could about my hands and go to the medical facility. I didn't have much faith in there whole setup but I had heard good things. They were very efficient in getting me in to see the doc. It was just like going to the doctor with the paperwork, nurses and beds only this time it is in a tent and all the players are in Dakar garb. Pretty cool I thought. The fella I got to see knew exactly what he was doing. First, he took care of this horrible burn I had suffered two days prior changing my oil. I accidentally pressed my left bicep up against the header pipe and it instantly singed a nice long blister into it. All the skin came off and was starting to look kind of gnarly. They fixed me up nice. Next, he sat me down for the hands and went to work. First a thorough cleaning and then came the needles. He took out a syringe and popped all the blisters one by one and drained all the fluid and blood out. Next, he injected a red substance into all the empty pockets and squeezed it all around to cover all the area inside. When all my blisters were sufficiently purple he covered everything up with some newskin-type of stuff and stretched it over all the spots. That alone added another layer of skin between me and the bike and isolated me from much of the friction on the bars. Over the newskin he cut up a piece of bandage that would do any origami expert proud. He cut four perfect holes for the fingers and wrapped it around like it was a custom-made glove. Both hands were ready to go and for the first time in the entire race I felt like I could make a go at a decent day's riding. I was amazed at the service in the medical tent and had renewed faith in the ASO. Unfortunately my next two follow-up visits wouldn't be nearly as pleasant or effective but for that day I was golden.
After the medical I met up with Steve and Casey for dinner at the catering tent. Once again there was pasta on the menu but they also had some delicious lamb stew and some wonderful stinky French cheese washed down by a nice French red. I think I had two glasses that night to celebrate making it past the marathon days and my newfound hands.
Back at the camp Jim and Gary were fast at work on #197. I couldn't believe those guys. After prepping my roadbook Jim sent me to bed and assured me everything would be ready to go by the morning.
The next day was Stage 10, a loop out of Nema and back into Nema. We were supposed to leave Nema and end the day in the famous Timbuktu (Tombouctou) but a couple months ago there were ramblings of some security risks. The organization took the initiative and in the name of safety opted to change the course by avoiding Timbuktu. I think everyone was a little disappointed we weren't going to this classic Dakar city. It has been a legendary stage in the past but hasn't seen the Dakar since 1999. I hated that we weren't going to Mali again especially after the senseless loop but I guess they know best.
Stage 10
We didn't have a huge day ahead of us so they gave us a little bit of a break with the wakeup time. I think I did manage a bit of sleep that night even with all the madness. We had no idea what the stage was going to be like since it was changed at the last minute. No one seemed to be too nervous about the loop but a few still managed to get crossed up right out of the gate.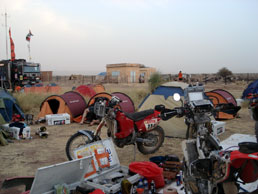 We left the bivouac on a sandy two-track and never got off it. There was a big hump in the middle so changing sides was pretty hairball but it went on and on for the entire day. On each side there was a small rut about 6 inches wide that it was best to stay in. Outside of it and you pretty much were just along for the ride, or I was anyway. It was important to get into a rhythm on the track. It wasn't too terribly difficult by itself but to go fast things get bent out of shape pretty quickly.
I wish I had some news and stories about the day but the track was about as boring as I had ever ridden. There weren't any villages packed full of locals, no herds of camels or goats, nothing. It was literally one track for the entire day. The day wasn't without its drama despite the course. The dust created its own challenges and as a result made it difficult to pass and get passed. Either you had to stay right off the flank of the guy in front in the other lane or drop way back out of the dust. Not once, but twice I came around a corner to see Steve standing over a bunch of balled up motorcycles. Oh god, I thought. I instantly recognized his one-off MSR jacket and he was standing so I knew he wasn't hurt but I didn't see the bike. Turns out this one English rider he had been riding with managed to get really crossed up and cartwheel his CRF off the course. Steve stayed to help him and we were on our way shortly. I dropped back again and not even 5 minutes later I came up on them balled up in a turn in the sand. There were people crashing out all over the place. This was one of those stages where you had to slow down a little bit go fast but it took some getoffs to realize it. I escaped a few close calls myself but not all. Every time I came off the bike for the entire race I would get up and run over to it to assess the damage. Since my spare parts kit was so limited the smallest crash could possibly be the end of my race. I had decided at the end of the day before that I really needed to finish this thing so the thought of tossing it away on a stupid crash just sickened me. I slowed down to get it home.
We made it to the end in not too much time, one of the shortest in Africa at 6 hours. The bike repairs Jim and Gary made the night before were looking good. That was one less thing to worry about out on the trail.
Again I had some time on my hands to tend to the hands so I visited the medical tent for a follow up. I knew it was too good to be true. I saw my regular guy but he was too busy with one of the pros. I got another fella who had obviously been on many Dakars. This was old hat for this salty old dog but he was severely lacking in sensitivity skills. The burn was looking good but oozing some yellow stuff that wasn't there the previous day. In his broken English I think he said that meant it was healing. He undressed my hands and started over from scratch exactly like the day before.
Out came the syringes and red stuff. He jammed them in there like a pro but he decided he needed to root around in there like a pig looking for truffles. That was honestly more painful than any of the pain I had felt in the past 10 days of riding. I yelled out loud and sneered at him like I was going to slit his throat but he just looked at me politely in that French-old-man sort of way and slid it back out. I know he secretly enjoyed inflicting pain on the helpless American and he knew there was nothing I could do. He dressed it up like the other guy but his origami talents weren't nearly as evolved. I knew his work wouldn't last through the next days ride but I left anyway. Nonetheless, I walked away once again feeling better about my hands though not quite as good as the day before. I still had some time to chill so I met Steve and Casey at the caterer for some dinner. There was a little gathering of Americans that I felt honored to be a part of, even if only by association. Next to me was Steve Laroza, the only person in the history of Best In The Desert to win a championship on both two wheels and four in the same year, Chris Blais, Dakar veteran and currently forth place, Andy Grider, another Dakar and Baja veteran that chose four wheels instead of two this year as the co-driver to Robby Gordon, and Casey McCoy, legendary rally racer and navigator extraordinaire.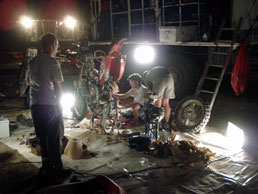 They mostly talked about the course and how silly the route was but that happened to be the day Robby ran out of gas and received some help from the bikes. I am guessing he was a little tweaked at the crew for some miscalculations but I don't think there was much damage done in the grand scheme of things. I really enjoyed hearing some stories from the other side of the steering wheel. There was always a very cool vibe around the catering tent and tonight's dinner confirmed it even more.
The rest of the evening was uneventful. I looked at the roadbook mostly for cautions and speed zones but the liaison-only day was hopefully going to be an easy ride through Mauritania. George from Patsy and Clive's camp came over with a case of the local beer immediately winning the hearts of the Rally Panam group. I think that night the attitudes were light and enthusiastic. Steve's bike was doing some funky stuff on the way in but his ace mechanic Niles Folin from Scuderia West and Clive from Desert Rose hammered it out before the beer set in. I think we all slept a bit that night.
— Chris
[next >]
[< back to main race reports page]