Dakar Diary-1
Spice and I arrived in Lisbon on Christmas Day. The trip was uneventful but the our arrival to the starting city of the 2007 Dakar was the beginning of what would become the most adventurous and emotional two weeks of my life.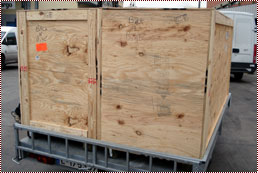 The bike and race prep up to this point had gone about as smooth as could be expected given my situation and circumstances. My bike was as ready as I could make it and on a plane to France. My training wasn't going to get any better only 10 days before the race so everything I had done up to that point I had to live with. I did manage to squeeze in a few runs along the boardwalk but that was mostly to calm the nerves.
The Inatel Hotel in Lisbon was our home of choice for the next 10 days leading up to the start. In the past couple years a tight group of riders out of Lisbon called that Nomads have taken it upon themselves to host the Americans during the last days before the Dakar. The Nomads are a certifiable group of Dakar nuts! Our point of contact, Carlos, was such a huge source of information during our stay and a tremendous help in so many ways. The Nomads also helped us get our bikes out of customs and with their trailer got mine, Tim Hall and Steve Laroza's bikes to the Inatel. This was no small feat considering the huge crates we needed for the rally bikes.
When we arrived there were only two other members of the American rally teams at the hotel. Robb McElroy from Team Rally Panam was their with his girlfriend Jen for the past few days trying earnestly to get their trucks and bikes out of Customs. Desmond McDonald from Team Rally SoCal was also there with his wife Julie trying to track down where in the world his truck and bikes were. Come to find out, only 7 days before the start of the race his bikes were still in Los Angeles and the whereabouts of the truck were still unknown. Over the next week we would all get to know each other quite well over meals of lamb tagine, nan bread and couscous.
All the bikes and trucks eventually arrived and the Inatel almost overnight was turned into a full-on rally hub of bustling activity. Everyone, no matter how much prep had been done, had stuff to take care of before the looming scrutineering date. In this small seaside hostel/hotel there were no fewer than 9 American Dakar Rally entries complete with bikes, support trucks, mechanics and assorted team members. The atmosphere was very exciting. The Rally SoCal guys were feverishly trying to sort out their carburation problems with their crack mechanic Joe Desrosiers, of Joe Hauler fame. Mike Kay and Brian Schmuckle were riding Huskys that were still in desperate need of some serious rally-prep. Apparently they only received their bikes weeks before shipping and weren't able to take care of everything they wanted. Unfortunately, I think this is the case for every Dakar entry. My theory of the work expanding to fill the time allotted could never be truer than here. No matter how early you start Dakar prep the work will only be done once you get to the start and sometimes, as in the case of the Huskys, not even then.
Once we got the bikes to the point where they were basically rally-prepped the Nomads took us out on a test ride of some of their favorite trails. Myself, James Embro, Mike and Brian and Tim Hall from Heartland Dakar were treated to some of the best riding Portugal has to offer. The Nomads arrived at the Inatel complete with a few BMWs, a few KTMs, large and smaller, a couple Suzukis, and an assortment of adventure tourers anyone would be proud to call their own. It was like going riding with 15 of your best riding buddies. After some amazing dense pine forests and gentle, coastal, 500 year old stone roadways we found ourselves at a tiny little restaurant hosted by the Nomads adopted mother. She served us up some of the greatest local delicacies right out of our home. We left with full bellies and an afternoon of memories. If you find yourself in Portugal looking for some of the greatest riding in the world an afternoon with the Nomads is a must.
On scrutineering day, the 3rd of Jan, everyone was a little tense. We had heard nothing but horror stories about scrutineering day. It'll last forever, the French will drive you crazy with details, no one speaks English, blah, blah, blah. Steve, Elmer and myself arrived at Admin right on time and instantly started the whole paperwork dance. Right away the first thing the ASO does is take an impression of your credit card in case you flake out on any bills in the future. They take a 1500 Euro impression and promise you'll get it all back in February as long as you don't damage any of their sensitive equipment. They don't tell you about this part prior to your arrival but fighting it is a waste of time. Without it you will go no further.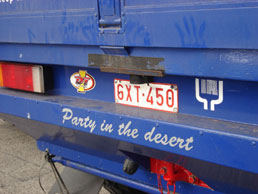 After the money end is taken care of you proceed through a series of about 20 stations where you'll be issued your GPS, Iritrack, Balise, Sentinel, safety gear, photo taken for the Dakar book, bike paperwork, insurance, sat phone and a few others I have probably forgotten. All in all we spent around 3 hours in there sorting out stuff and getting ready for the technical inspections. When all the boxes are checked in the admin checkout form you have 45 minutes to report outside for your bike. Ideally you have already connected all the necessary antennas, cables, power sources and brackets needed for all the navigation and safety equipment. All told there is a bundle of 6 cables that are required coming from the dash to the GPS/Iritrack box. Three of those are to antennas, two are to hardwired power sources and another is to the Sentinel. There is a representative from each department to check out their respective gear and offer assistance in case something is not correct. I don't think any of us had everything perfect. It was always something.
All my electronic and navigation gear was pretty dialed in by the time I got in. I actually scooted through without much problem save for a bad blade connector to the Sentinel. I had a small freakout searching for that but the rep helped me out a lot and we determined the connector was bad.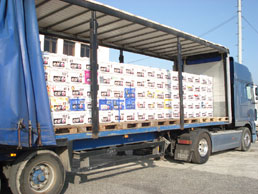 From there you go inside the garage and they check out the bike for safety gear, put on all the necessary stickers and numbers and do some last minute regulations checks. The atmosphere inside was really exciting. Right away I am parked next to David Fretigne and his Yamaha 450. Everyone is taking his picture and asking for autographs while they sip on impossibly small cups of coffee. Something I never got used, the little coffees. This was one of those memorable moments that hit me that I was really about to do something special and was surrounded by some amazing people in motorsports. One guy is on his knees carefully placing the number stickers on my bike with the care of a surgeon. He asked me for my autograph on his hat right next to David's. Very cool I thought. After all the stickers and sponsor talks like Elf and Loctite I handed a big Russian guy my jacket so he could hammer some snaps in for those numbers. I met a number of guys in line and we talked at length about previous Dakars. I think I was the only one that had never done it in my little group. One German fellow I was speaking with told me of a Dakar a few years ago when he was 100 meters from the finish and got taken out by a car and broke his leg. The driver, Juta Kleinschmidt, felt horrible and paid his entry the following year but as of then he still had not finished one. He looked me in the eye and smiled and assured me it isn't over until it is over. Indeed.
Wrapping up my 8 hours at scrutineering I left the building and had my picture taken yet again for the ASO press I think. Out onto the main boulevard and I could swear Depres was right behind me but no, it is only me they are cheering for. You are funneled up to the podium for a word to the crowd and shuffled off to the Parc Ferme. I was supposed to have my face projected up onto the jumbo-tron but I think the cameraman must have been on a Union break or something. I understood. Up on the podium I saw Spice and just about lost it. She was cheering with all 96 members of Steve's extended family. My nerves were already a mess and I hadn't even gotten to the start.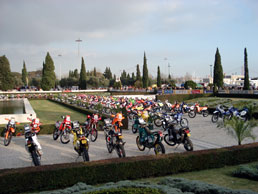 From there the bikes are locked in a beautiful park in the middle of town. As I unplugged all my electronic gear to save the battery and walked away I couldn't help but feel a little special in my #197 emblazoned MSR jacket.
The following two days before the race were busy busy trying to wrap up all the little details. We went to pick up my airplane box and check into the KTM support truck. That was also our first time checking out all the T4 and T5 trucks. Those are truly a site to behold. The fact that these 4, 6 and 8 wheel drive monsters of the desert get along as well as they do is nothing short of amazing.
The airplane box will hold all my essential things for the next two weeks. All my nutrition, extra clothes(one extra pair of socks, one extra pair of underwear, one extra shirt, my 12oz down jacket and a pair of shorts). There is also all my camping gear-my Mountain Hardwear tent and sleeping bag(thanks Jon Webb) and Thermarest. The box is about the size of a military foot locker I guess, 30" wide, 17" deep and about 15" high. Not much to live out of for two weeks but the options are limited
At this point we still had the support truck and for all we knew it would be there the entire race. For whatever reason I planned for the truck to not be there and, as a result, put ALL my personal gear in the box. This would prove to be one of the smartest moves of my entire Dakar.
Friday night before the race found us just about ready. Spice and I wandered off for a quiet dinner by ourselves down the boardwalk to find a little peace before all hell broke loose in about 10 hours. Elmer Symons and his brother Philip were going to stay with us for the night in our room so we could all get out together. It was a rather calm and quiet night considering what we were about to get into. We talked a little about some last minute preparation and nutrition. Elmer was very focused and calculated and could not wait to get to the start. Like most of us, this was a dream come true for Elmer.
I don't think any of us slept that night. 4AM came early.
— Chris
[next >]
[< back to main race reports page]