30 Dec 2006 - The Thrash on the Bikes Starts
Everyone gets up for breakfast but by 11:00 AM, the thrash is on. First we have to re-assemble the truck. Almost everything that has been attached to the outside of the truck had been removed in order to get the truck small enough to fit into the plane. The sand ladders, the generator, the top rails on the body, the platforms for the frame jacks all have to be found in the truck and put back in their proper place on the truck.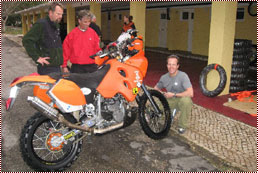 Soon enough, Chris and I start working on his bike which really is close to being done. James' bike, on the other hand, is straight from the factory and there's so much work to do. The bike is beautiful but they soon strip it to the frame and the work begins. Chris and I are primarily checking the wiring and finding homes for the assorted spares that have to be attached to the bike somewhere. The work is leisurely and there's not real pressure.
James and David have wiring to add, switches to add, brackets to make. Everything hat would have been done over weeks at home, has to be done here in front of the motel room. James bought a new bike from KTM and had it delivered to Lisbon rather the US. The bad part of that plan is having to make the bike race ready here in Lisbon. Of course, James and David are up to the task but they will work until after 1 AM and then start again in the AM.
Chris, Spice and I go out for a great Italian dinner. We come back and James and David are still at it with Kenny and George cheering them on.
We call it a night. James and David keep right on working.
— Paul Dubinsky
Animated map
( shows route for each day)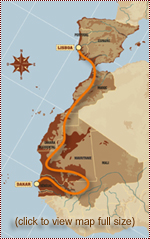 [ Next Report > ]

[ < back to main race reports page ]