Dakar Diary-4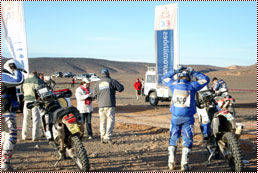 The day started like every day I guess. It was dark leaving the bivouac and the first cautions of the day don't take long to show their ugly head. One of main sources of transportation in northern Africa is the donkey and whatever it can tow behind it. Unfortunately the locals haven't figured out a way to rig a headlight to them. Needless to say that made for some exciting riding until the sun popped up. Once it did pop up the morning chill gave way to a spectacular landscape. I had never seen anything like it. The sights alone were almost worth the hefty price of admission to the Dakar, almost.
Right away Steve and I rode together on the liaison. He was having some light or roadbook issues so I think I lead the way to the Special. It was only 96km but the next 405km were to change our lives forever.
There was a lot of sand and some crummy, rocky roads to tend with right away. I had some problems with the sandy tracks pretty early on so I opted to not try to hang with Steve. His comfort pace was a bit quicker than mine so trying to keep up for a full day didn't seem like the wisest thing to get it to the finish. The landscape was incredible. When I would come into a Speed Zone limited to 30 or 50kph I had some time to at least check out the villages a little. The people were beautiful and the handmade mud homes just like you see on tv. There didn't seem to be any rhyme or reason to the layout of the villages. Homes were on top of other homes, stacked three high and dug into the hillside. The communities were very functional to the outside observer, no fuss, no muss. I am sure there is an order to disorder but I couldn't for the life of me figure it out. I know we'll go back there at some point in the future to do some riding. The entire country just begs to be explored and I couldn't think of a better way to do it than on a bike.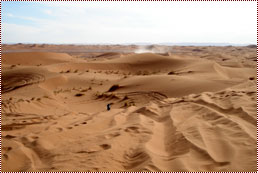 The sandy, rocky roads soon gave way to long, fast stretches of hardpacked African gravel. The cautions many times were hidden in the dust of another competitor so you had to really pay attention all the time. You were almost always passing or being passed so a small lapse in concentration or an extra second looking down at the roadbook could mean 150 feet of trail. I eventually settled in to my own pace where I could maintain a certain speed without feeling like I was over my head. Steve was long gone and riding at his own pace well ahead of me. I really didn't have a problem with that. Early on in Lisbon he and I decided we would ride together but I think that was before he realized how slow I rode. I repeatedly told him to ride ahead so I didn't hold him up but some days he was fine slumming it with me.
Around the 140km mark in a particulary fast section I came up on Elmer's bike, #107, parked sideways on the road. Someone had righted it maybe as a caution, I don't know. It had clearly been cartwheeled but of course I never assumed the worst. I stopped for a second and checked out the area but there was no sign of anything or anybody. I turned right around and continued on my way down the course not thinking much of it really. I knew he was out of the race and I couldn't help but feel horrible that we would no longer be meeting at Dakar. His dream of reaching the Pink Lake shattered by an unsuspecting rock or dip in the road. Of the four JJE Team Racing members only Steve and I remaine.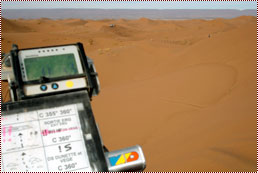 A couple hours later the course had once again changed into some sandy two-track with pockets of vegetation. For me it was pretty slow going but again I was at a pace where I was comfortable and I could go all day. There were people falling out left and right, either for mechanical reasons, crashes or otherwise. Whatever the case I didn't want to be one of those guys. I told Elmer I was going to get it to the finish and I was. That meant more to me now than ever. Pretty soon I saw a couple guys off course and waving me down. It was Steve and Jonah Street of Team Rally Panam. Jonah was well off the course reaching for any small bit of shade he could and resting in his socks. His bike was done. There was a rather large puddle of oil on his bellypan and he wasn't going anywhere. I felt terrible he was out. If I had a spare motor in my backpack I would have given it to him. His standings so far were extremely impressive and he was well on his way to a podium finish. It couldn't have happened to a nicer guy and a first-class racer. I have no doubt he'll be back next year even stronger and poised to set the rally world on fire.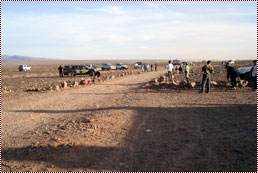 I offered Jonah some water and food because he was going to be there for a while before the sweep truck came to pick him up. Neither were saying much. It was eerily quiet between the three of us and that was when Steve told me, "Elmer passed away today". He could barely get the words out of his mouth and it was as if the last ones came out in slow motion. No. That couldn't be. He was too good, too strong. Not Elmer. His whole life was ahead of him. He is only 29. No one said a word for about 5 minutes. We just stood there looking at the sand and the desert and this god-forsaken race. What in the hell are we doing? What the fuck? People aren't supposed to die, especially your teammates.
Everything changed at that moment. Everything. Steve and I in a very quiet tone said to each other, "let's just get it to the finish". We bid farewell to Jonah and made our way down the course. Humongous floods of emotions overwhelmed my helmet. What about Philip? If only I could get to Philip. He just lost his brother. Oh my god, this cannot be happening. Of course, thoughts of quitting entered my mind and I am sure Steve's for a little bit. Every time I thought about quitting huge speakers in my head would go off and it was Elmer telling me to be careful and just get it to the finish. I would tell him back, "if you get me to the start, I'll get it to the finish". I had to do him proud. I knew he'd be at the finish and if I didn't make it he'd be pissed. He put so much work into my effort and I wasn't going to let him down.
There is no other way to describe it other than horrible. The rest of the day was just an awful ride to the finish. Steve and I quietly trailrode it to Ouarzazate and the bivouac in the desert. No words were said, even implied. I think we both knew what the other was thinking.
Since the day was an unassisted day we wouldn't see our airplane boxes and the vehicles until the following day. When we got the bivouac we were issued a little goodie bag of stuff that included a rather nice pullover with the Dakar emblem on it, some really sweet yellow babushka slippers, a pair of socks and a toiletry bag with toothbrush, paste and soap. We also got two wool blankets for sleeping on the ground. Thank god I had my jacket. It was freezing. The tents were just like all the others but we were actually sleeping where the caterer was. By the time we got in there were already bodies everywhere taking the best spots under the tent. I was forced to sleep out in the open under the stars. I didn't mind much honestly, I didn't feel much like socializing that night. When I got settled in and sat still for a few minutes I got to thinking about Elmer long and hard and my own race.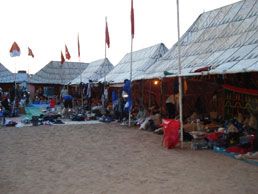 I walked out into the desert for a few minutes and gave Spice a call on the satellite phone. I didn't know quite what to say but I needed to speak to her. She was on her own Dakar of sorts in Morocco only a couple hundred miles away as the crow flies but worlds away in reality. When I got her on the phone she had already heard the news from back home and wondered if I had. Her phone was ringing off the hook from family and friends back home. They were all wondering what was going on and how we were doing and if we were going to quit and go home. I hated that she had to deal with everything but like most things she does she seemed to handle it like pro. I lost it at that point. I broke down and started crying out in the desert looking for some answers but there were none. All I could think about was Philip and how devastated he must be having left Elmer in the morning in a promising 18th position and now gone forever.
Spice was able to calm the chatter in my head long enough to get it together and we said goodnight. I don't know what I would have done without her. Back in the bivouac the mood was rather somber but light. The surrounding landscape was almost otherworldly and the tight-knit community of racers inside made for a really bizarre atmosphere. After I got cleaned up and laid all my wet gear out to dry I wrapped myself into the standard issue Dakar wool blankets.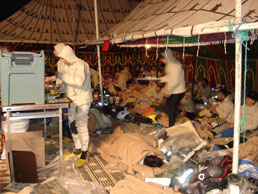 The riders meeting that evening was unlike the others. In past Dakar rallies there have been a number of deaths but you never expect it will happen to someone so close. I had seen this on tv for the last three years but now it was more real than ever. In three languages the top competitors conveyed a word of caution to the remaining racers about the importance of being careful on the course and all sat for a moment of silence for Elmer. At that point there was still something like 6000km to go until Dakar so the message was short and to the point. I don't think I saw Steve after that point but I know he and Casey McCoy were having some moments of their own. Steve and Casey were both very close to Elmer so the news for everyone was a life-altering moment no one will soon forget.
Ouarzazate was freezing that night. There were bodies and gear everywhere without a single piece of real estate available for any latecomers. All around all you could see was about 225 lumps covered in tan blankets 360 degrees around. Thankfully I had my jacket to compliment the wool or else I would have frozen. Shortly after my baguette, pasta, cheese and wine Steve offered to split his sleeping pill with me for the evening. I don't remember much after that. I put in the earplugs and curled up underneath the blankets and drifted off almost oblivious to the world around.

— Chris
[next >]
[< back to main race reports page]